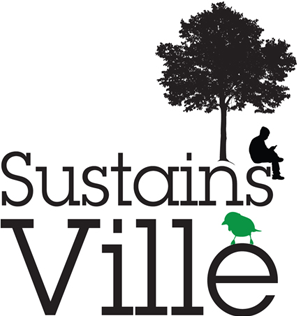 Sustainsville
"Imagine.. a beautiful place out in nature. Green, lush, silence, and endless space. Ancient woods and flowery fields. Think tree houses and vegetable gardens, fruit trees and fresh food, fire circles and heavenly views. And imagine yourself working there. In your hammock between trees, in your high-tech work space in the treetops, or in your business cubicle between sunflowers and apple trees. All you need is laptop and phone. Connect. With like minded professionals. With nature. With the world. And all this in a self sustaining environment, without waste and without the use of fossil fuels. Does it sound too good to be true?
Well, no. It is going to happen! This 'hub in nature' is called Sustainsville, and it will soon be realized. Somewhere in The Netherlands. It's what we call the business community of the future. No more boring and energy consuming office buildings, but a healthy playground for social innovators, a creative lab and meeting place for sustainable entrepreneurs, and a showcase for front running companies."
@sustainsville
I have been terribly busy recently shoveling pixels and clearing out the tubes that make up the Internet, so I haven't had a chance to tweet recently. I am truly very sorry about this, so with just a bit more prodding I'll update as soon as possible.